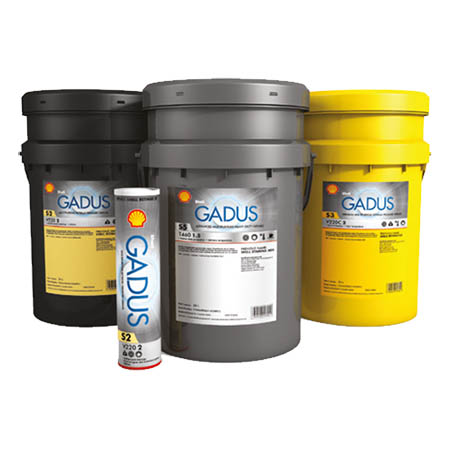 Shell Gadus S5 V220 2 • 180kg
Advanced Multipurpose Extreme Pressure Grease
Shell Gadus S5 V220 is an advanced performance grease for general transport and industrial applications. It is based on high viscosity index synthetic base oil and a lithium complex soap thickener. It contains additives against wear, oxidation and corrosion.
Description
Downloads
Q&A
Performance, Features & Benefits
Excellent mechanical stability and water resistance
Critical properties for the function of labyrinth seals in bearing housings in the wet end of a paper machine.

Corrosion protection
Good protection against corrosion from aggressive process water.

Enhanced extreme-pressure properties
Extreme load-carrying performance.

High dropping point
Long operational life at both high and low temperatures
Compatible with seals
Compatible with elastomers in systems designed for use with conventional grease.
Main Applications
Shell Gadus S5 V220 is used for the grease lubrication of bearings in both transport and industrial applications, including also both the wet and dry ends of paper machines.
Specifications, Approvals & Recommendations
Meets ASTM D4950-08 GC-LB
For a full listing of equipment approvals and recommendations, please consult your local Shell Technical Helpdesk.
Health, Safety & Environment
Health and Safety
Shell Gadus S5 V220 is unlikely to present any significant health or safety hazard when properly used in the recommended application and good standards of personal hygiene are maintained.

Avoid contact with skin. Use impervious gloves with used oil. After skin contact, wash immediately with soap and water.

Guidance on Health and Safety is available on the appropriate Material Safety Data Sheet.

Protect the Environment
Take used oil to an authorised collection point. Do not discharge into drains, soil or water.
Additional Information
Re-greasing Intervals
For bearings operating near their maximum recommended temperatures, re-greasing intervals should be reviewed.