SAMCHEM LUBRICANTS AT A GLANCE
SAMCHEM LUBRICANTS SDN. BHD.

IS AN AUTHORISED SHELL LUBRICANTS DISTRIBUTOR SINCE SEPTEMBER 2016. SAMCHEM LUBRICANTS IS A SUBSIDIARY OF

SAMCHEM HOLDINGS BERHAD

, A LEADING REGIONAL DISTRIBUTION COMPANY LISTED ON THE MAIN BOARD OF BURSA MALAYSIA.
Samchem Lubricants acquired Syarikat Phua Cheng Woo (PCW), a well-established Shell Lubricants distributor in Kuantan (since 1981). With PCW's many years of experience in the lubricants industry and Samchem Lubricants' strong logistics and infrastructure (3 warehouses in Pahang, Terengganu and Kelantan), the synergy will enable the company to serve these east coast states more efficiently.
Samchem Lubricants markets a full range of Shell lubricants as well as greases for the transport, construction, mining, quarry, manufacturing, engineering, marine, oil & gas sectors, etc.
We aim to create and maintain long-term value for our partners and clients
OUR WAREHOUSES

Lot 73-75, Semambu Industrial Estate, 25350, Kuantan, Pahang
Our main warehouse is strategically located in the heart of Semambu Industrial Area Kuantan, Pahang with a storage capacity of more than 2,500 drums. We market a wide range of Shell products - Shell Tellus, Shell Spirax, Shell Omala, Shell Gadus, Shell Corena, Shell Rimula, and many more.
With an experienced team combined with a new team of trained personnel, we can provide excellent service and quality assurance, ensuring that our customers will receive products promptly and in good condition.
With our strategically located warehouses and inventory of products, we are ready to provide good service and prompt delivery to our customers in these east coast states.
Our performance depends on having a highly skilled, motivated and talented workforce meeting the needs of the industry that we are in.


Lot PT 1451, Kampung Landak, Jalan Padang Tembak Pengkalan Chepa, 16100, Kota Bharu, Kelantan
Samchem Lubricants has 2 other warehouses - one in Kota Bahru and another in Mentakab, West Pahang.
Samchem Lubricants is prepared for the challenges in the next industrialisation phase of the East Coast states when new foreign investments come in
In mid-2017, the appointment was extended to cover the Northern States of Perlis, Kedah, Penang and Perak. Business activities in the northern states are supported by existing infrastructure in Ipoh and Penang

No.6, Jalan IKS Juru Jaya, Taman IKS Juru Jaya, 14100 Simpang Ampat, Pulau Pinang

PT 254058, Lebuh Perusahaan Kelebang 9, Kawasan Perusahaan IGB, 30010 Chemor, Perak Darul Ridzuan.
In July 2020, the SLSB's distributorship was further extended to cover the Central Region of Peninsular Malaysia. Business activities in this region are supported by existing infrastructure in Samchem HQ in Shah Alam
MANAGING OUR ENVIRONMENT
Please refer to our H.S.S.E.
OUR ORGANIZATION
ORGANIZATIONAL CHART
SAMCHEM LUBRICANTS ORGANIZATION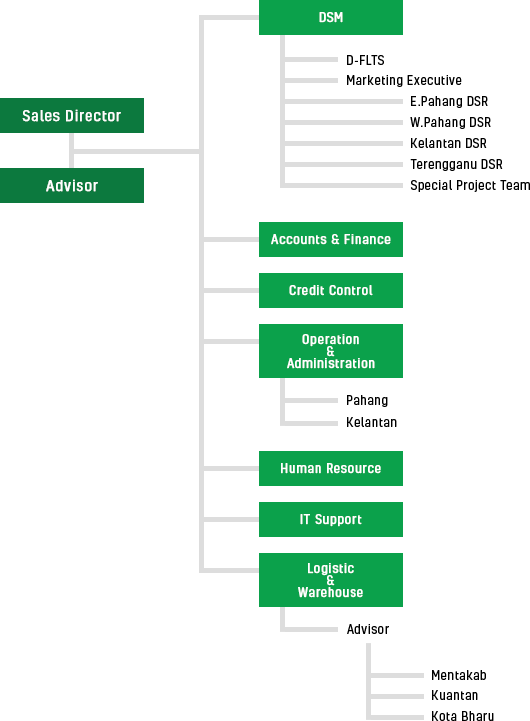 HOW DO WE OPERATE
MANAGING OUR ENVIRONMENT

Please refer to our H.S.S.E.